Like all modern businesses, construction companies need to establish a strong online presence to succeed in today's economy. Consumer behavior has changed over the years, and specifically, consumer behavior has changed to adapt to the digital age. For example, in the late 1800s, the introduction of the telephone in daily life changed the way that consumers did business. And as a result, the Yellow Pages became an essential tool for local companies. By the 1930s, advertising in the Yellow Pages was a standard business practice – you had to be listed to succeed.
Then in the late 1990s came the world wide web and a digital transformation that changed consumer behavior again. Many business owners that we talk to still yearn for the Yellow Pages and simpler times. We often hear from electricians and plumbers that miss the days when the phone was ringing off the hook with prospective customers. These customers could be handled in person on the phone and quickly converted into real revenue.
But those days are gone. By 2011, most Americans reported that they never use printed phone directories. Fast forward to 2019, and the number of consumers that go online to find a business and do research about their needs has jumped to 97 percent!
Standing out in the crowded space of the internet is much more difficult than it used to be. You can't just buy a bigger space on the yellow page and get more calls than your competitor. Getting results takes a lot more work.
But the effort pays off. Companies that have a strong online presence earn two times as much revenue per employee and experience revenue growth over the previous year that was nearly four times as high.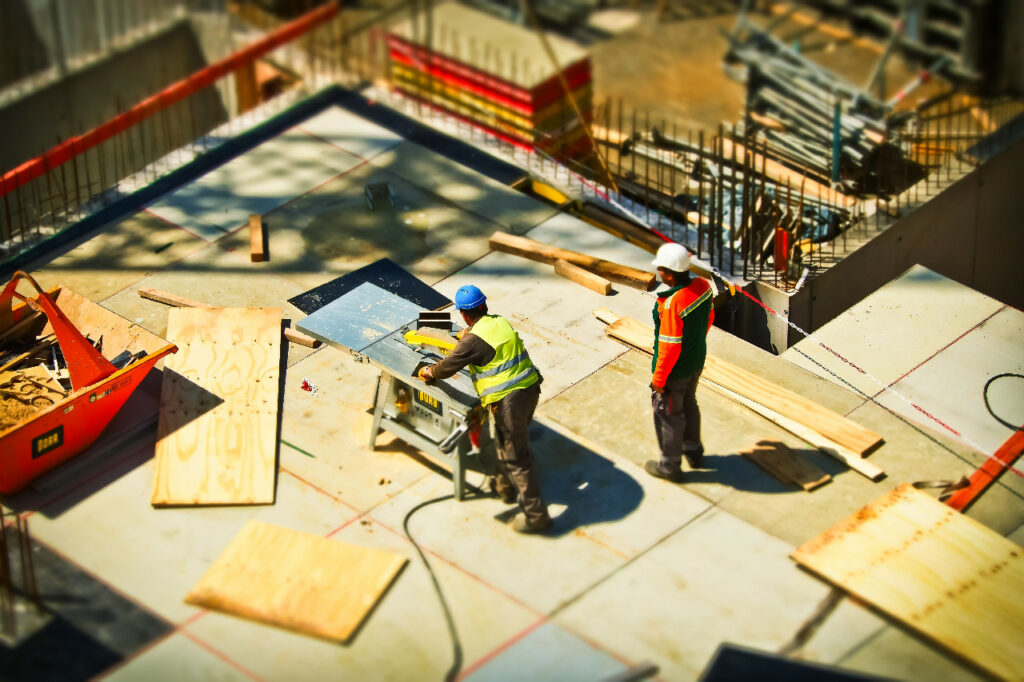 Step One: Build A Website
The obvious first step for all construction related companies is to build a mobile-friendly, responsive website for your business. 30% of consumers won't even consider a business if it doesn't have a website. This is the minimum commitment. By now, consumers expect companies to have an online presence, including a website, and consider a company that doesn't have a site as less professional.
97% of people go online first to find a local business, and the overwhelming majority of these online experiences start with a search engine. There are 3 billion+ searches on Google every day and chances are someone in your area is searching for your service at this very moment.
And this applies to companies that only operate in the B2B (Business to Business) segment as well. If you are a subcontractor that only works for general contractors, or your company only bids directly to government agencies, you need a website too. 75% of B2B buyers state that digital website content significantly impacts their decision to select your company. If you are contacting a GC and asking for work chances are they are checking you out online before making a decision.
The reach of social media is also declining. Everyone has a business page on Facebook or Instagram, but recent changes to the Facebook algorithm has made it harder to reach customers on the site. Social media can undoubtedly help your business grow and should be part of your overall strategy, but it is not enough to rely on this platform alone.
Step Two: Drive Customers to your site
The process of driving more visitors to your site is called Search Engine Optimization (SEO). It typically involves enhancing your company website's search engine ranking. A high-ranking site is much more likely to get web visitors that you can convert into paying customers. In effect, working on SEO for your website is like buying a bigger ad space in the Yellow Pages – it will help you get more potential leads that you can convert into paying customers.
Ranking on the first page in Google's search results is not something that happens overnight. The end result is worth the effort, however. With an effective SEO strategy, you can create more leads, win more clients, and grow your revenue!
You should set goals for your online marketing / SEO efforts from the beginning. The most common goals that customers relate to us are "to make more money" or to "find more work." Some examples of good SEO goals that we try to set for our construction clients include "be listed on the first page of search results for home builders near me."
SEO isn't just about your site's keywords, however. It is not something you do once during website design and then forget about. SEO refers to ongoing efforts to optimize your site for terms, phrases, and keywords most relevant to your business.
The SEO process includes keyword selection and optimization, content creation via articles, blogs, and guides, website loading time improvements, link building, optimizing content for lower bounce rates, and public outreach.
Proper SEO is the most effective way to drive highly targeted traffic to your website. Customers that are already engaged in the sales process and are looking to pull the trigger will find your site when they are doing their online research.
Step Three: Generate Revenue by converting that traffic into business
The final and perhaps the most crucial step of internet marketing is to convert the targeted leads provided by your website into paying customers! This is the point in the process where you take over – just like the old days when a customer called your office phone number after seeing your ad in the Yellow Pages.
Responding to your leads quickly is one of the most important elements of successful lead conversion. In the past, you answered the phone when a customer called you for work, or you quickly called them back if they left you a message. Responding to internet leads should be handled with the same sense of urgency.
According to Harvard Business Review, just 37 percent of companies respond to their online leads within an hour. If a company makes a follow-up phone call within five minutes of submission, they are 100 times more likely to reach a potential customer than if they call after 30 minutes. After 20 hours, every additional call will hurt your chances of converting that lead.
The Internet era has caused a significant shift in the way that you do business. It is much harder to stand out and attract new customers. But it also presents a bigger opportunity to differentiate yourself from your competitors because most of them are not doing internet marketing correctly. Take advantage of their mistakes and drive that new revenue to your company!